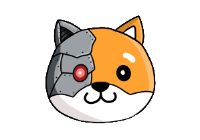 ROBOFLOKI
I am Robofloki. Join me and together we will reach the stars.
We don't look the moon, We're going to Mars!
Public Launch
24th February 2022 at 18:00 UTC PancakeSwap
🦾Get ready! This February!
What is RoboFLOKI?
RoboFLOKI is a Play to Earn Game (P2E), NFT, and Metaverse triple ecosystem built on the RoboFLOKI token by the strong community-powered. All ecosystem is a very core part of what RoboFLOKI is.
1 Audit
Last audit was made at 25/01/2022