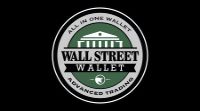 Wall Street Wallet
Wall Street Studio recently launched their first product, the Wall Street Wallet. This decentralized cryptocurrency wall...
1 Audit
Last audit was made at 25/05/2023
Security analysis is not applicable for the current Contract Address. Try a different one or contact us for an advanced report.
Request Audit
Timeline
KYC
Cyberscope KYC
No Cyberscope KYC
Are you looking to build trust with your investors, get listed on an exchange or raise capital?
Request KYC
Market Stability Website
DNS
SPF record contains a softfail without DMARC
Listed
If you have a project and want to learn more about our services, get in touch!
Contact Us